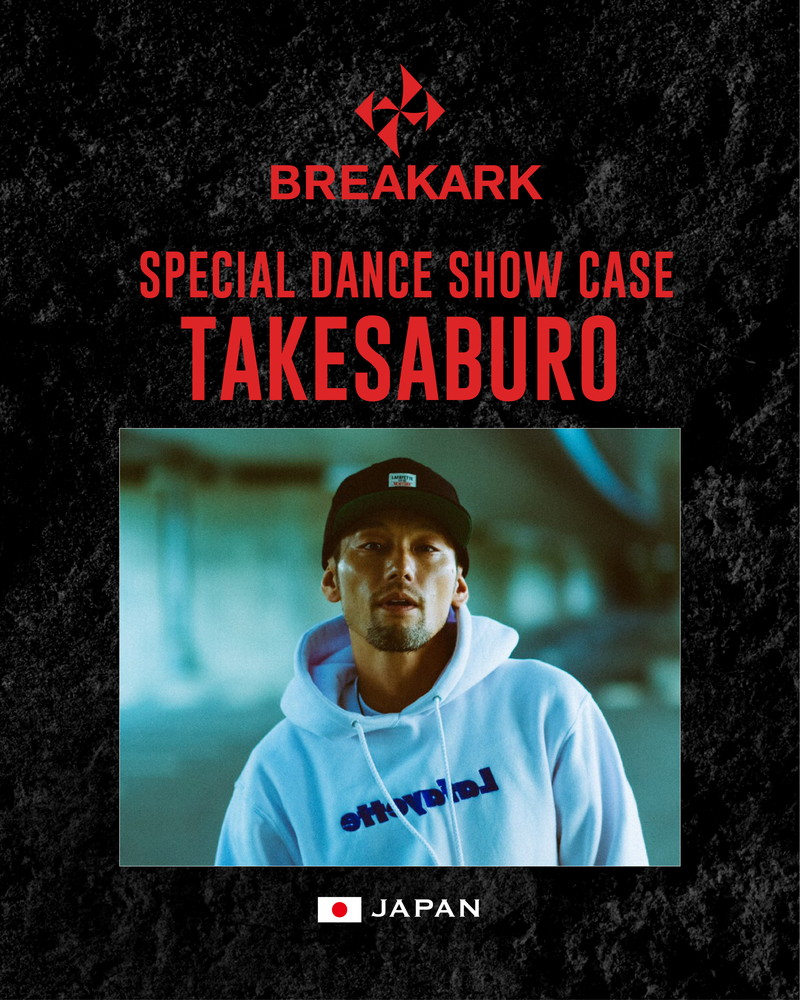 BREAK ARK super final 直前のSPECIAL GUEST DANCE SHOW CASE!
"TAKESABURO"
XXX-LARGE,SODEEPに所属。
95年にダンス人生スタート。
HIPHOPとHOUSE、2つのダンススタイルを武器に世界各国で活動中。
2015年、両国国技館で行われた日本最大級ソロダンスバトルイベント「DANCE@LIVE FINAL」にて見事優勝し、日本一のタイトルを獲得。
また、数多くのアーティストの振り付けやバックダンサーとしても活躍し、テレビ番組や海外でのイベントなどに出演。
現在では自身のスタジオ『YELLOWBLACK DANCE STUDIO』を2012年、湘南エリア藤沢に立ち上げ、日本のストリートダンスカルチャーを広めるため日々活動を続けている。

SPECIAL GUEST DANCE SHOW CASE before BREAK ARK super final!
This time, "TAKESABURO" will be doing special guest live and living up the BREAK ARK.
Who is belonging XXX-LARGE and SODEEP.
He has been dancing since 1995.
Hip-Hop and House style and he is working over the world.
He got Japanese champion at DANCE@LIVE FINAL 2015.
Also he does choreography for a lot of artist, doing back-dancer,on the TV and working a lot of world event.
Now, He has making studio which is YELLOWBLACK DANCE STUDIO since 2012 at Fujisawa-Shonan area.
He is trying everyday makes STREET DANCE CULTURE popular in JAPAN.